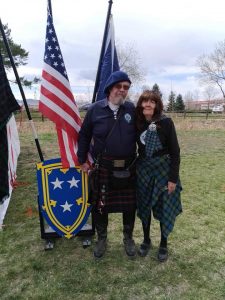 We kicked off the "festival season" last weekend in Longmont, Colorado, at the Colorado Tartan Day Festival. Offered the second weekend of April, oftentimes the week after International Tartan Day, it is one of the few FREE events of the year. Many of the larger Clans were in attendance, along with the usual music, food, and history demonstations.
We took the RV up Friday afternoon in 30-50 mph winds and set up in the campground of the Boulder County Fairgrounds, located near the site of the Festival. The wind blew most of the evening and off and on the following day, Saturday, but Sunday was relatively quiet and sunny. Our daughter and grandson attended bboth days with us, and our grandson got to overnight with us on Saturday.
This was my first official festival as USA Genealogist for the Murray Clan Society of North America. I was amazed at the number of people beginning to look into their Scottish heritage, and also those who had studied their lineage already and were comfortable with history.
Next up is June for the Pikes Peak Celtic Festival, a fast-growing event in the state. We will take the RV again, staying in a campground just south of Colorado Springs in Fountain. July is the Elizabeth Celtic Festival southeast of Aurora, followed by the Colorado Scottish Festival in Edgewater, moved from Snowmass where it was held the last several years. A few smaller (or newer) festivals are sandwiched in the calendar these months, but we may not participate. In the Fall, the Longs Peak Festival is the "biggie," but has not been a favorite of the Clans lately, so it is still up in the air also.