In a day-long trip west of Aberdeen, you can visit a number of castles. Some are simply ruins, long forgotten, while some are being renovated, and others are dwellings for the wealthy and famous, including a royal family. We missed a few because we drug our feet, but here they are:
Drum Castle
Crathes Castle
Craigevar Castle
Glenbuchat Castle
Balmoral Castle – Queen Elizabeth II's home away from home in Scotland, just along the River Dee
The Gordons, my primary clan, are HUGE in the Aberdeen area. The renowned Gordon Highlanders have a museum there, and the name Gordon appears elsewhere in the district. This was a memorial in a small town, simply honoring members of the community who had fought and died with the Gordon Highlanders.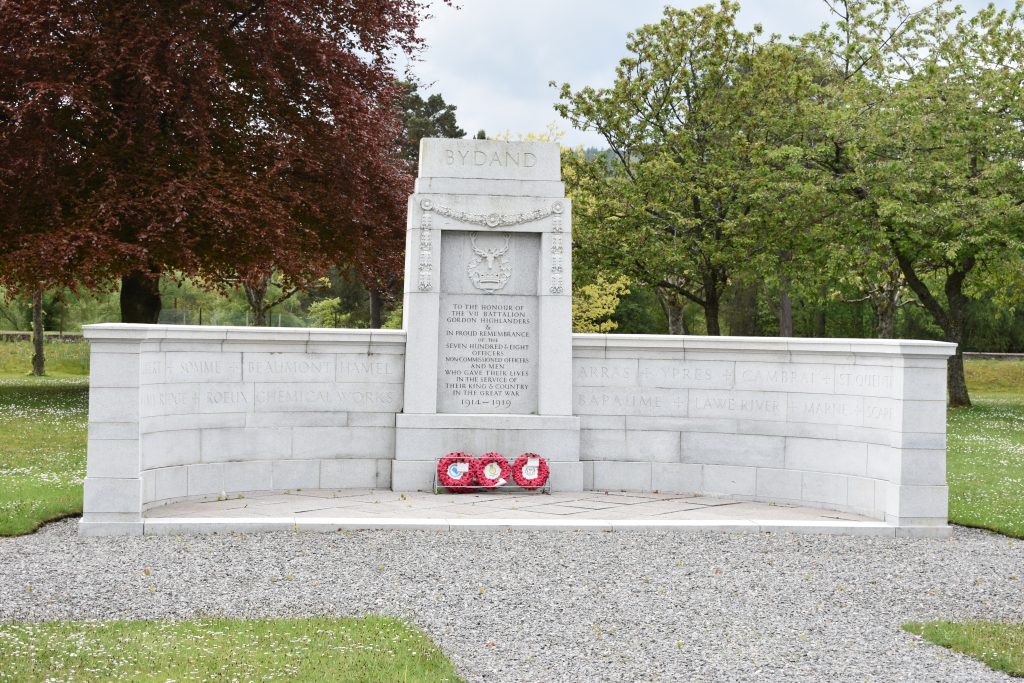 As we drove further into the country, especially on the northern leg of the castle loop, the road got narrower and narrower, with numerous "Parking Places" where you're expected to pull over and the oncoming traffic go by. It always seemed we had to yield to oncoming cars, but they didn't seem to have to do the same. One particularly interesting road feature was a single-lane bridge we had to cross.
As usual now, another piece of beautiful landscape….You have to look into the future for the beauty of this shot – just image all that brown you see now, which happens to be heather, and project yourself into August or September when the brown turns to all shades of blues and purples.