Blair Castle, at the heart of Blair Atholl, is the historical seat of Clan Murray. The Atholl Highlanders, a private army created with the blessings of Queen Victoria, guard the castle and stand ready for orders from the 12th Duke of Atholl, who lives in South Africa. The castle itself is run by a national foundation, but the Highlanders have exclusive access to the ballroom below.
Michael Murray, Marquis of Tullibardine, and his younger brother, Lord David Murray, are sons of the Duke. Michael is in line to inherit the title of 13th Duke of Atholl. Both officers in the Highlanders, they were officiating over the annual Parade the Saturday before the Clan Gathering.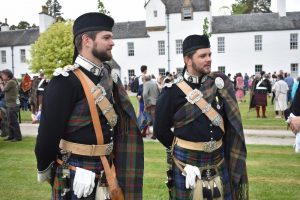 The Clan Gathering on Sunday was interesting for several reasons. We were looking forward to a Highland Games in Scotland so we could compare with games we've been to in Colorado. The usual food, jewelry, clothing, and amusement booths were in abundance, but there was much more of an emphasis on the Shot Put, Caber Toss, Hammer Throw, and bagpipes than we have seen. Once the games had concluded, Michael Murray kicked off the festivities, and the field opened up to family events and sports. Sporting events at games in the States are usually off to the side somewhere, and are not usually headline events.
We first saw fidget spinners in London, but many of the shops couldn't get enough to keep them on the shelves. We didn't know they had appeared in the States until we got home.